American Timberlands Company is pleased to announce the highly successful sale by Danzer Holding AG of 42,500 acres of hardwood forests to Jamestown Timberland.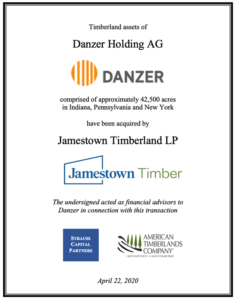 Danzer, founded in 1932 and headquartered in Dornbirn, Austria, owns and manages forestland and produces sliced veneer, lumber and innovative value-added wood products for decorative purposes.  It is the largest producer of decorative veneer worldwide.  The wood on the dashboard of your Audi, BMW or Mercedes could well be manufactured by Danzer.
American Timberlands and Strauss Capital were engaged by Danzer to organize and execute the sale of 42,500 of the company's North American holdings of high-quality hardwood forestland in Indiana, Pennsylvania and New York, along with associated oil, gas and mineral rights. American Timberlands partnered with Strauss Capital a New York-based investment banking firm in April 2020. In April 2020, while COVID-19 was bringing large parts of our country to its knees, we completed the successful sale of the properties to the timberland unit of Jamestown LP, an Atlanta-based real estate and timberland investment and management company with over $12 billion under management.
Jamestown LP is the owner of Chelsea Market in NYC, Industrial City, a 6 million square foot industrial, office and retail complex in Brooklyn, Constitution Wharf and the Innovation and Design Building in Boston and Ponce City Market in Atlanta, among others.  The Jamestown Timberland Fund hold properties aggregating over 250,000 acres in the United States.